Blue Force Gear Redi-Mod
(Originally written 01-12-09)
In 1998 I purchased my first Boonie Packer Redi-Mag http://www.booniepacker.com from Bushmaster (In 1998 I got a majority of my AR15 related gear through the Bushmaster catalog). I was introduced to the Redi-Mag by some of our SWAT Officers who were using them at the time, and I had seen some competition shooters using them as well.
I used the Boonie Packer Redi-Mag on my primary AR for a couple years, to include going through SWAT school with it. I ended up removing the Redi-Mag due to the extra weight that it added. At the time I was running a 14.5" HBAR barrel with a Knights RAS, which added to the weight problem.
Over the last decade I have used and removed the Boonie Packer Redi-Mag a few times. The reason for getting rid of the Redi-Mag was a majority of the time when I deploy a rifle I'm wearing some type of load bearing gear due to my current assignment.
For several years I've recommended the Redi-Mag to numerous Patrol Officers and civilian shooters as a way to carry extra ammo for the AR15. Most of the time when a Patrol Officer rolls on a call where a long gun is needed, he'll arrive on scene, retrieve the AR15 from the gun lock or the trunk of his cruiser, and head to the scene as quickly as possible.
Since the inception of our Patrol Rifle program 8 or so years ago I have never seen an Officer grab extra gear for a rifle (with the exception of some Officers will grab an extra magazine and stuff it in their back pocket). And in my entire career, I have never seen an Officer grab extra ammo or equipment for the shotgun. For most situations where a long gun is needed, it's just grab the long gun and go. During hot calls or critical incidents, seconds count.
The Redi-Mag puts an extra loaded magazine on the gun, that is quick and easy to access, and the Officer doesn't have to grab any extra gear. Most civilians and law enforcement officers don't walk around with chest rigs or any kind of load bearing gear, the Redi-Mag is a convenient way to have readily accessible ammo on tap for the AR15.
Travis Haley, instructor for Magpul Dynamics can be seen using a modified (light weight) Redi-Mag in this trailer to "The Art of the Tactical Carbine" DVD set at 1:52. I have never been as fast or as fluid with the Redi-Mag as Travis, but with just a little practice magazine changes can become quite fast.
Larry Vickers can also be seen using a modified Redi-Mag (Blue Force Gear Redi-Mod) in this pic from a training class that I hosted in the fall of 2008: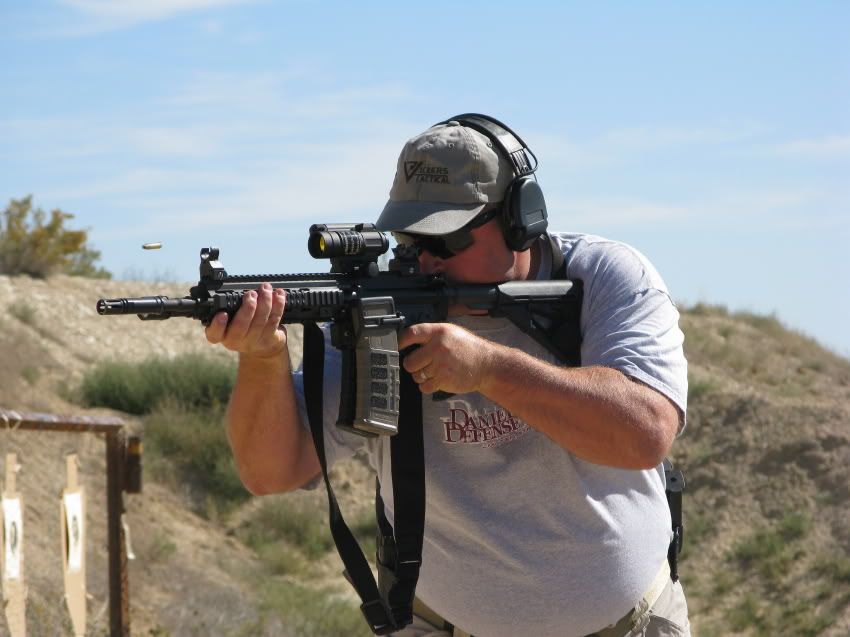 The only complaint that I've had with the Redi-Mag is the extra weight that it adds to the gun. The first AR that I had a Redi-Mag on, (1998) was a 14.5" heavy barreled carbine with a Knights RAS, Knights Surefire light mount, and old school (all black aluminum) 9 volt Surefire weapons light, with Trijicon Reflex RX01 tritium sight. It was a heavy and cumbersome package.
Over the last several years, the push has been toward lighter carbines. 10 - 15 years ago, a majority of manufacturers offered heavy profile barrels, yet few offered lighter weight configurations. Today's market is the exact opposite, most manufacturers offer lighter weight barrel configurations, but overall very few offer heavier profile barrels. Manufacturers of rail systems have tried to get their rail systems lighter. Optics have gotten smaller and more light weight. Weapon mounted lights have gotten smaller and lighter weight.
Like many other products on the market the Redi-Mag has gotten lighter. The folks at Blue Force Gear have taken the Boonie Packer Redi-Mag and cut off extra material not needed. The modification done by Blue Force Gear reduces the weight of the Redi-Mag by 25%. Blue Force Gear calls their modified version the "Redi-Mod"
After recently recommending the Redi-Mod to a colleague, he asked to check out mine before he spent the money on one. I was kind of embarrassed as a Firearms Instructor to recommend something to a peer and not have one on hand for people to put through the paces.
I ordered a Blue Force Gear Redi-Mod, once it arrived the first thing I did was I put it on the digital scale. Weight of the Redi-Mod was 6.8 oz. And just to give you a comparison, an EMPTY Magpul PMAG is 5.2oz. The finish on the Redi-Mod was nicer than what I remember the Boonie Packer Redi-Mags being. I installed it on a carbine and started practicing. It didn't take long to get back into the groove, and the weight wasn't bad either.
If you are looking for a way to carry extra ammo for your carbine the Redi-Mod is an option definitely worth looking at.